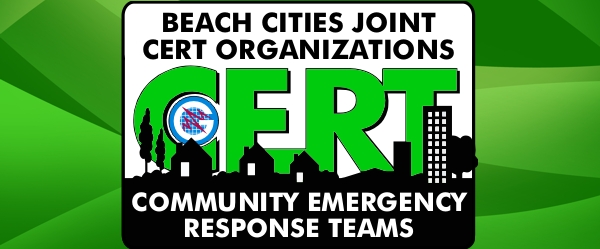 What Is the Great California ShakeOut?
Great ShakeOut earthquake drills help people in homes, schools, and organizations improve preparedness and practice how to be safe during earthquakes.
The ShakeOut began in California and has also been organized in many other states and countries.
We get to push our training to its limit, gain new experience and expertise, interact with professionals, practice what we have been learning, all in a safe, challenging and as real as make believe can be environment.
This effort however relies on volunteers like all of us to put it together. Behind the scene there is an organization called the BCJCO (Beach Cities Joint CERT Organizations) which has worked hard all year long to set up events such as these.
The first one was in 2008 in Redondo Beach, the second one in 2010 at the AES powerplant in Redondo Beach, and now this year in a city block of Manhattan Beach. All have been very successful in training volunteers and all participants, which is why they have been rapidly gaining popularity and scope.
It is now up to us all to continue and expand this great legacy that has been tendered to us by the originators, the wonderful CERT folks of Redondo Beach.
If you desire, you can now participate in the planning committee of the BCJCO for the next event. It is in itself superior training. It will expose you and train you for bigger and more complex issues than have been outlined in the basic training and manuals. It will expose you to planning a real event, which is the best training for organizing our actions in case of an unexpected event.
Our volunteers said that it gave them the opportunity either intrinsically or through cross CERT training organizations to not only feel more empowered, but better prepared for both real emergency and CERT functions, even for their everyday life and job duty whatever they are.
If you feel the call of duty to this great organization that is CERT and its objective and can dedicate the time and effort, don't hesitate to join us in preparing the next event. And if not the next, then maybe the one after. The typical duty would be one meeting a month, coming to two as we get closer to the event, and a few hours work a month. It is only through us, the simple volunteers, that great things can come about. That in itself is the essence of grassroot and neighborhood organizations such as ours. So join and participate! Contact us through the various organization links (twitter, Linkedin, Facebook) or through your CERT organizers
Learn More